European design double glazed Windows and Doors
Whether your building a new home, renovating your existing home, or looking for ways to save $1000's of dollars on energy costs, you won't find better than our European designed, double glazed windows and doors.
Using leading edge technology, they are built to the highest standards to last a lifetime, and are used all over Europe to reduce energy costs in the home.

Being a Fremantle company, we service the whole of the Perth Metro area, and our qualified installers can measure up, remove your old windows, install your new windows and clean up.
The complete installation service.
Call us for a quote and discover for yourself, the benefits of double glazed windows. (and doors)
ECONOLINE Series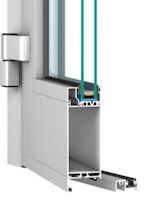 Standard series of profiles with thermal break, used for most traditional door and window applications in houses and industrial buildings.
APPLICATIONS
Commercial and residential doors and windows
Single or double sash
Residential doors are open-in only
IMPERIAL Series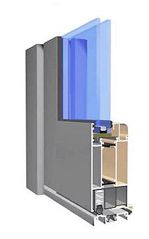 This series of high quality profiles with thermal break is applicable where more severe standards for acoustic and thermal insulation are required. The profiles for this series are constructed of 2 hollow extrusions separated from one another by polyamide strips PA 6.6.25 reinforced with glass fibre. An additional radiation barrier in the form of a strip in the same material provides the 4 chamber system.
APPLICATIONS
Flush, single or double sash doors
Open in Swing doors (double action)
Various types of windows
SLIDING DOOR
System for patio doors and windows with thermal break.
The folding door system with thermal break allows you to create large passages. The system is built up using a frame in which moveable parts or elements are placed in such a way that it is possible to fold the elements to the left or right. These elements or sashes are supported and hinged to a mullion. At the bottom the mullion is supported by a roller mechanism which slides along the sill profile while at the top, the mullion is guided by another roller mechanism. There are several possible combinations of elements and opening sashes.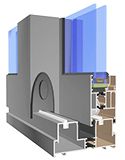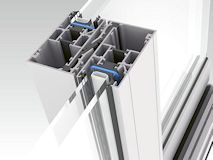 APPLICATIONS
This series of folding doors is mostly used in hotels and restaurants, stores and in private houses, in order to open a complete wall to create a larger space in the summer.
The system is also interesting for conservatories to use as a screen you can open completely in summer time.
CURTAIN WALL - MC WALL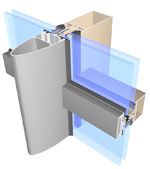 The curtain wall consists of vertical mullions and horizontal transoms joined together with stainless steel pin joints. In case of straight wall elements, this offers the advantage of rapid construction of the front wall. It is possible to build up slightly facet-shaped curtain walls with screw joints for the transoms. The clamping strip is coupled to the mullions by means of an extruded connecting bar, which also forms the thermal break for the curtain wall. This clamping strip is formed with co-extrusion of hard plastic as a basis and soft plastic to guarantee sealing. The whole construction can be finished on the outside with several decorative beads. Besides traditional front walls with horizontally and vertically protruding lines, this series can also be used to construct a semi-structural front wall, whereby the outside of the front wall will only show vertically protruding cover caps.
APPLICATIONS
Straight and slightly facet-shaped vertical glass walls for small and large office buildings
Semi-structural front walls with vertically protruding cover caps
COMMERCIAL WINDOWS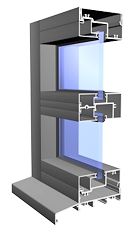 APPLICATIONS
Schools
Churches
Shop Fronts
Sporting Clubs
Shopping Centers
Offices and Public Buildings
Residential and up market buildings